William Powell Frith, R.A., British, 1819–1909
Richard Ansdell, R.A., British, 1815–1885
The Pet Fawn, ca. 1860
Oil on canvas, 44 1/2 x 35 in.
Signed lower right: W. P. Frith and R. Ansdell
1995.109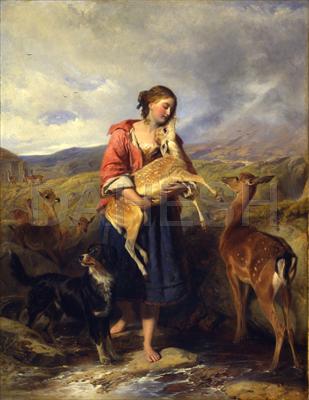 The Pet Fawn is among several collaborations between Frith and Ansdell, described in an 1868 sale catalog as "one of the best joint works of these distinguished painters." This sentimental rural scene — later engraved — of a young girl carrying a fawn with a tri-colored collie on her left and deer surrounding her elegantly typifies a most popular genre at the time. The Pet Fawn has all the elements of this type's appeal: the young maiden with her red cheeks demonstrates Frith's careful study of character and human form, while the majesty of the animals, the distant dark clouds with patches of sunshine, and hovering birds in the sky are Ansdell's signature traits.
Frith and Ansdell were leading Victorian painters, both Royal Academicians. Frith painted light-hearted literary and historical subjects but was best known for his vivid scenes of contemporary life, especially the huge crowds on Derby Day or at Paddington Station. He enjoyed great success as well with his books My Autobiography and Reminiscences published in 1877 and Further Reminiscences in 1888. Ansdell painted mostly sporting events of huntsmen with horses and dogs, as well as rural themes with gamekeepers or shepherds with domestic and wild animals, often in such historical settings as the Scottish Highlands. In fact, his animal subjects were compared to those of Edwin Landseer, the foremost British animal painter of the 19th century.