New York Opens Orientalist Exhibition in Rockefeller Center
Encountering the Orient: Masterworks from the Dahesh Museum of Art
Through April 15, 2013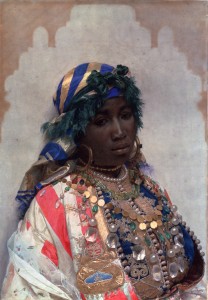 New York, New York — The Dahesh Museum of Art and Christie's New York today announced a first-time partnership, an exhibition of 30 major Orientalist works from the Museum's collection, plus related programs. Encountering the Orient: Masterworks from the Dahesh Museum of Art, opens to the public at Christie's in New York City, 20 Rockefeller Plaza, on March 27 and remains on view until April 15, 2013. The exhibition celebrates the 19th-century rediscovery of the East by Western artists, and offers a fresh approach to Orientalism as a complex, highly contextual, cross-cultural encounter.
This is the first time the young Museum is partnering with an auction house to present an exhibition. Their mutual goal is to provide loyal constituencies and new audiences of museumgoers, collectors, specialists and scholars with a fresh, more nuanced view of Orientalism, based on recent scholarship that re-frames the 19th-century encounter between East and West.
According to Alia Nour, Associate Curator at the Dahesh Museum of Art, who developed Encountering the Orient, "There are three main reasons for organizing this exhibition now, all of them timely. First, since the countries of North Africa and the Middle East are in the news daily, our mental map of the world is being re-drawn to include people and cultures in the region once known as 'the Orient.' Second, the Orient still has a powerful hold on the imaginative life of the West, as marked by the recent proliferation of exhibitions devoted to Egyptomania, the influence of Ancient Egypt, real and imagined, on popular culture. Finally, the field of 19th-century art history is growing. Young scholars are producing exciting inter-disciplinary research — revising old theories, breaking new ground. Thus, it seemed timely to re-examine Orientalism with a choice selection of Orientalist masterpieces from the Dahesh Museum's Collection in collaboration with an institution that celebrates the art of 19th century, like Christie's."
According to Alexandra McMorrow, International Department Head, 19th–Century European Art, "Christie's is thrilled to collaborate on this significant and timely exhibition. As an auction house, we are committed to not only connoisseurship but to scholarship as well. This exhibition is the perfect example of how our two different institutions can work together to contribute to a fuller understanding of 19th-century art and specifically Orientalism."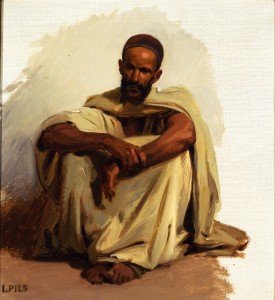 Encountering the Orient explores how artists from both Europe and America interpreted the culture and people of the Middle East and North Africa during the 19th century. Although fascination with the Orient began earlier, in the 19th century, Western encounters flourished following the industrial revolution, increased political interest, and new means of transportation. Enchanted by the exotic, romantic artists wanted to escape the urban rigors back home, realists sought to record the "real" Orient, and others looked for unusual subject matter to satisfy the new demands of a changing art market. Yet some who did not make the journey rendered an "imaginary" Orient inspired by both Arabic texts — such as One Thousand and One Nights –and many popular Western literary and travel accounts. After 1839, photographers provided plentiful documentation.
Drawn from the Dahesh Museum of Art's collection, the exhibition features 30 paintings, sculptures, and illustrated books by well-known artists, such as Rudolf Ernst, Ludwig Deutsch, Gustav Bauernfeind and Frederick Arthur Bridgman, as well as evocative works by less familiar names, such as José Tapiró y Baró. It addresses a broad variety of themes, ranging from Western fascination with ancient Egypt, Islamic architecture and design, ethnography, and biblical history to the exotic genre and harem scenes, and provides a fuller understanding of Orientalism and the artists who practiced it.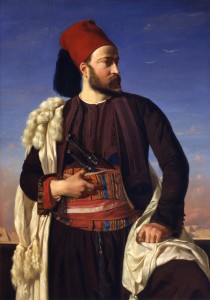 The Dahesh Museum of Art burst on the New York City museum scene in 1995, some 18 years ago, and is best known for its thoughtful, engaging exhibition program that champions 19th-century academic art, drawing on contemporary scholarship. The Museum's rich holdings in Orientalist art (paintings, sculpture, and works on paper) are among the most frequently requested loans the Museum makes to arts institutions internationally and in the United States. Although it recently purchased a large office space in Hudson Square, where it offers Salon Thursdays, a series of free art historical lectures focused on the 19th century, it currently has no exhibition space of its own. Undaunted by this challenge, the Dahesh creatively forms partnerships with a variety of arts institutions to make sure the collection, along with curatorial insights, are shared with a diverse public. Most recently, Dahesh exhibitions traveled to the Bellarmine Museum of Art, Fairfield, Connecticut; the Munson-Williams Proctor Arts Institute, Utica, NY; the Frederick R. Weisman Museum of Art, Pepperdine University, Malibu, California; Lubin House Gallery, Syracuse University, New York City; and the Gallery of Light, Dubai, UAE. In April 2013, the Dahesh will lend five major Orientalist works to the Yale Peabody Museum of Natural History, New Haven, CT, for their exhibition, Echoes of Egypt: Conjuring the Land of the Pharaohs.