Hudson Square Tries to Encircle Residents
By
Melanie Lefkowitz
 via
The Wall Street Journal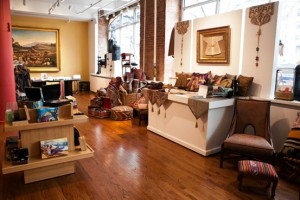 Deb's Catering, a gourmet deli in Manhattan's Hudson Square neighborhood, does a brisk business serving salads and sandwiches to office workers on weekday afternoons. But when those office workers go home for the day, Deb's shuts down, too.
"I've attempted to open on the weekends many times, but this neighborhood is pretty quiet on the weekends," says Deborah Barall-Miller, owner of the 17-year-old shop.
That may be changing. A rezoning of Hudson Square that would pave the way for new residential development was approved last month by the City Planning Commission, and a City Council hearing on the matter is scheduled for Tuesday.
Meanwhile, a handful of new businesses and institutions, ranging from the Children's Museum of the Arts on Charlton Street to a branch of Hale & Hearty Soups on Hudson, have opened within the past two years, drawing new visitors. And the area business improvement district, the Hudson Square Connection, formed in 2009, is working on an ambitious five-year plan to improve the neighborhood's streets and sidewalks.
"What [local property owners] needed was to sort of knit this area into a neighborhood," says Ellen Baer, president and chief executive of the Hudson Square Connection. "This whole area hasn't had almost any infrastructure [work] done in almost 80 years."< /p>
Hudson Square, sometimes called West SoHo, and roughly bounded by Canal and Houston streets, and Sixth Avenue and the Hudson River, is historically an industrial neighborhood, formerly home to many of the city's printing presses. Today, its large Art Deco buildings have drawn creative and media companies, such as ad agency Saatchi & Saatchi, which was among the first to move into the area in 1985.
But although it borders some of the city's priciest residential neighborhoods, Hudson Square has little housing or shopping and can feel deserted on nights and weekends.
"Because we don't have a 24/7 population, it's very difficult to get enough reta il here. We just got a drugstore but we don't have a supermarket," Ms. Baer says. "It's unusual to have an area" within Manhattan that attracts so many workers "with so few residents," she said. "I can't even think of another one, frankly."
The Hudson Square Connection's $27 million street-improvement plan includes refurbishment of a small park at Spring Street and Sixth Avenue and creation of other small plazas, improvements to make Varick and Hudson streets more pedestrian- and bicycle-friendly and tree-planting throughout the neighborhood. The group would contribute $15 million toward the plan, with hopes that the city would finance the rest, Ms. Baer says.
Since the rezoning was proposed by Trinity Real Estate, which controls 40% of the property in Hudson Square, other developers have bought sites in the neighborhood. Some local advocates are concerned about what this could mean for the entire area.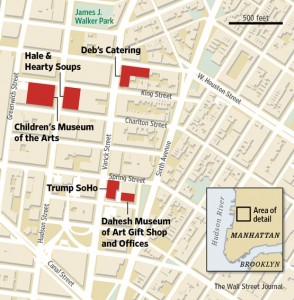 "If Hudson Square basically becomes the hot new neighborhood, which is what this rezoning is intended to make it…that is going to have a tremendous spillover effect on the South Village next door," according to Andrew Berman, executive director of the Greenwich Village Society for Historic Preservation, who has pressed city officials to include a lower height limit, lower density and landmark protections for the South Village in any plans.
With just a few residential buildings, the neighborhood already appeals to buyers seeking proximity to vibrant downtown areas, but with a quieter feel, brokers say.
"It's really close to SoHo, which people love, but a lot of people don't necessarily love living in the heart of SoHo," says John Gomes, an executive vice president with Douglas Elliman. "It's great to live in a quieter neighborhood where you can stroll to the water, or stroll east and be on Spring Street shopping at Prada."
Yet the area can also be far from the subway and choked with traffic, particularly near the entrance to the Holland Tunnel at Canal Street.
Paula Webster, spokeswoman for the Dahesh Museum of Art, which recently opened a shop and office space at 145 Sixth Ave. after five years without a physical location, says the neighborhood feels like it is "on the verge."
"We have a long view, and we feel like we want to grow with the neighborhood," Ms. Webster says. "The neighborhood is very exciting, because there is this feeling of expansion and transformation, and we're in a mode of transformation ourselves."