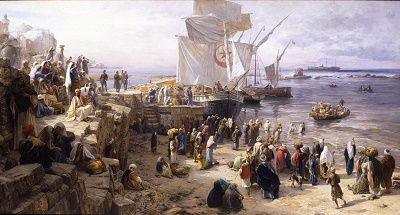 Academic Splendor
features paintings and sculptures that embody the 19th-century European academic tradition. Originating in 16th-century Italy, this tradition was based on learning to draw the human figure, and in adhering to principals of ideal beauty epitomized by Classical and Renaissance art. Nearly every city in Europe (and, later, the Americas and Australia) developed an academy; the most important of the modern period, and the one upon which many others modeled their own systems of promotion, patronage, display, and teaching, was the French Academy. Following the Academy's path would give hopeful artists (from all over Europe and America) the right of entry to a magical world of fame, honors, awards, public and private commissions, and an opportunity to become a member of an elite circle that exerted all-powerful influence over the fine arts in France.
With more than 40 masterworks from the Dahesh Museum of Art, the exhibition features a wide range of themes and styles by famous artists trained in European academies and private ateliers including Jean-Léon Gérôme, William Adolphe Bouguereau, Gustave Doré, and Antoine-Louis Barye.
The exhibition is accompanied by a full-color catalogue, Academic Splendor: 101 Masterpieces from the Dahesh Museum of Art.