Charles-Théodore Frère (French, 1814–1885)
Café in Cairo
Oil on canvas, 18 1/8 x 15 in.
Signed lower right: TH. FRÉRE
2012.12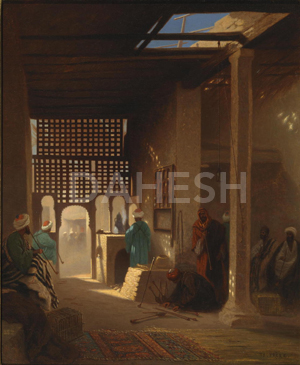 The American art critic Clarence Cook wrote of Frère in his book Art and Artists of our Time in 1888, "it is likely enough that he was attracted by some pictures of Oriental scenery in the Salon that contained his picture; but, however that may have been, he says only that he was strongly drawn by the sun…." Indeed, Frère infuses many of his scenes with desert radiance. In Café in Cairo, the full effect of the sun, which Frère delighted in reproducing, is only apparent when looking through the doorway past men smoking long-stemmed pipes and sitting in a shaded space that is dappled with light filtered through latticework above the entrance.