Alphonse-Étienne Dinet (French, 1861–1929)
Cairo: Haze, Dust and Evening Smoke (Le Caire, brumes, poussières et fumées du Soir), 1899
Oil on board, 14 1/2 x 29 1/2 in.
Signed lower left: E DINET
2012.3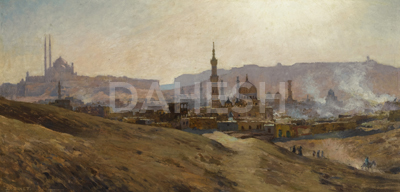 Following his trip to Egypt in 1897, Dinet painted two panoramic views of Old Cairo, one in the morning and the other in the evening, which were reproduced in Mirages: Scenes of Arab Life (1906), published by the artist and his friend Sliman ben Ibrahim. The latter described the beauty of the many minarets that define the city's skyline: "It is a joy to behold their slender and graceful arabesque design, and to hear the muazzin's moving call to prayer…[T]he haze, like a cloud of incense covers the city as if to help hide the beauty and so many souvenirs…[S]moke emanating from the houses echoes the thoughts of the city's inhabitants." The evening painting seen here, with its mirage-like view, haze, and rising smoke dissolving architectural details, recalls the work of Claude Monet, particularly his studies of the Gare Saint-Lazare. Le Caire, however, differs from Dinet's well-known Orientalist paintings—mostly North African scenes of daily life.  Although interested in plein-air painting and the effects of light, as a Naturalist painter Dinet executed his work in a manner more academic than that of the Impressionists, with a refined attention to detail and a meticulous finish.