Antoine-Louis Barye (French, 1795–1875)
Jaguar Devouring a Hare, modeled 1850
Bronze, dark brown patina, 17 1/2 x 40 x 16 in.
Signed on base left: A.L. BARYE. Inscribed on base left edge by tip of the tail: F. BARBEDIENNE, Fondeur.
Underside incised number 11
2013.4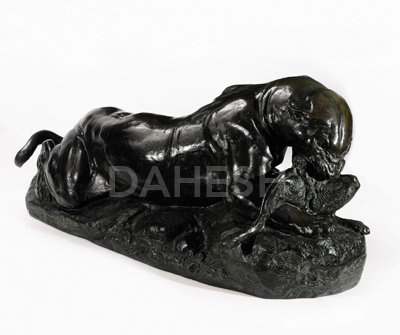 This work showing a powerfully elongated body of the jaguar with the limp body of its terrified prey, typifies Barye's Romantic images that made him one of the most popular animal sculptors of the 19th century. When he exhibited the bronze of Jaguar Devouring a Hare (plaster model, Louvre, Paris) at the Paris Salon of 1851, critics raved. Edmond de Goncourt wrote that with this sculpture, "the school of historicism had died, given way to art that was both visible and palpable. Just as landscape replaced historical subjects in painting, animals are doing likewise in sculpture. Nature has succeeded man. It represents the evolution of modern  art." Later on, the French avant-garde artist Henri Matisse chose Bayre's sculpture as the model for his first sculpture  of the same title (1899–1901, Baltimore Museum of Art), which he had begun while taking sculpting courses at the École Communal de la Ville in Paris.From 1893, the foundry Barbedienne, who was responsible for casting much of Bayre's work and making it available to a wider audience, produced bronze reproductions of these statues in three different sizes.