Blaise-Alexandre Desgoffe (French, 1830–1901)
Still Life with Fruit, Glass of Wine, 1863
Oil on panel, 21 1/4 x 24 in.
Signed and dated lower left: Blaise Desgoffe / 1863
1996.3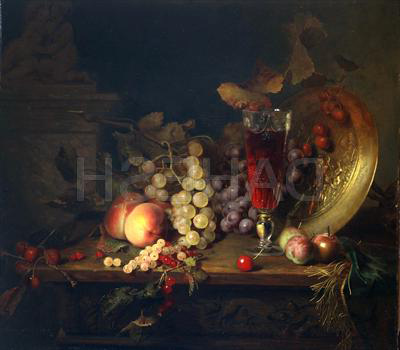 This array of apples, peaches, grapes, cherries, and wine celebrates Desgoffe's technical virtuosity and ability to organize a harmonious arrangement. The artist is known for his sumptuous still-life paintings, many of them including jewels, tapestries and objets d'arts in the collections of the Louvre and Luxembourg Museums. Although he was trained at the École des Beaux-Arts and studied history painting with Hippolyte Flandrin and William Adolphe Bougureau, he chose to specialize in still-life, which was considered a genre lower than that of historical subject matter. In fact, his luxurious paintings are very much in the great Dutch 17th-century tradition of such artists as Willem Kalf and Pieter Claesz, and were very popular with the growing numbers of middle-class collectors. In 1878, Desgoffe was decorated as Knight of the Legion of Honor.