Briton Rivière (British, 1840–1920)
Aphrodite, 1902
Oil on canvas, 73 x 62 in.
1995.106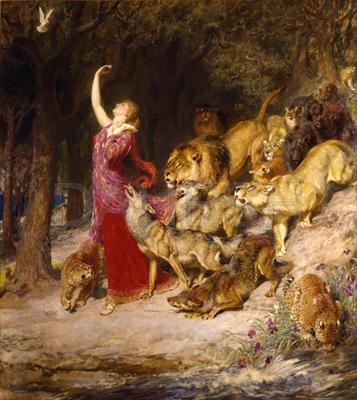 Best known as an animal painter, Rivière was considered the successor to Britain's great animalier Sir Edwin Landseer.  Throughout his career, he painted contemporary genre, classical, and biblical themes, invariably involving animals, which proved extremely popular during the heyday of late Victorian classicism.  Aphrodite is a compelling example of Rivière's work; a scene showing the goddess of love and beauty surrounded by a group of wild animals, seemingly under her spell.  Unlike most painters, he did not focus on the subject's erotic potential, but chose an unusual scene derived from a Homeric hymn (8th-6th centuries BC).  A label written by the artist is attached to the reverse of this painting, and contains the specific verse:
Aphrodite
There clad herself in garments beautiful
The laughter loving goddess. Gold-adorned
She hasted on her way down Ida's Mount,
Ida, the many-rilled, mother of wild beasts
And in her train, the grey wolf and the bear,
the keen eyed lion and the swift footed pard,
that hungers for the kind, all fawning came.
Homeric Hymn to Aphrodite
Born into a family of artists of French descent, Rivière began his artistic training with his father William Rivière, and studied drawing and painting at Oxford University – where his father was a drawing master.  His passion for animals began when he was a child, making sketches at the London Zoo, and in his studio, which included a menagerie of domesticated animals – dogs, horses, sheep, and pigs.  He began to exhibit regularly at the Royal Academy in 1858, but his first commercial success came in 1871 with Circe and the Friends of Ulysses (private collection), using the pigs he kept at his home as his models.  In 1878, Rivière was elected an Associate of the Royal Academy (A.R.A.), and in 1881, a Royal Academician (R.A.).