Camille Auguste Gastine (French, 1819–1867)
Study of a Man's Head and an Arm
Charcoal on blue paper, 12 x 17 in.
Stamped in red ink lower left: …Gastine
Gift of Decourcy E. McIntosh
2003.35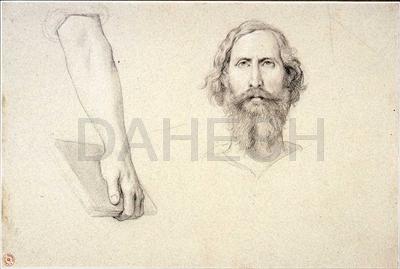 As a student at the École des Beaux Arts, Gastine would have learnt to draw individual parts of the human body, including arms, hands, and faces by copying casts of antique sculptures, and later by studying models. Gastine invoked this training in his drawings of a man's head and an arm, detailed studies of the human body that may have been done in preparation for a complete work. Gastine's drawing suggests his preference for hieratic compositions and poses, which we see in some of his other religious compositions, including drawings of Saint Mathew (1835–67) and Mater Dolorosa (1835–67) at the Metropolitan Museum of Art.