Charles Mercier Dupaty (French, 1771–1825)
Mme Potter, née Vaublanc, ca. 1820
Plaster, 25 in.
Gift of Charles Janoray
2001.20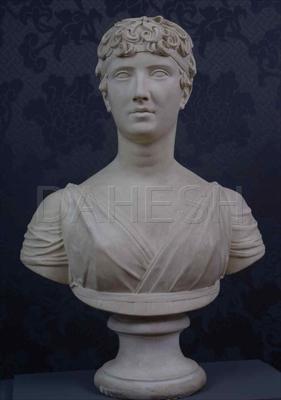 An important neoclassical sculptor, Dupaty studied with landscape painter Pierre-Henri de Valenciennes (1750–1819) and history painter François Vincent (1746–1816) but ultimately devoted himself to sculpture. He won the Prix de Rome in 1799, and during his eight-year sojourn abroad was thoroughly influenced by the classical idiom in both subject matter and style. Apart from depicting historical and mythological subjects, he also created many portrait busts such as the ones shown here. Dupaty received various official honors and awards, and in 1823 was appointed professor at the École des Beaux-Arts in Paris.
Madame Potter was the daughter of the Comte de Vaublanc, whose bust by Dupaty stands nearby. Her light dress à l'antique was the typical fashion at the time. Her hairstyle—arranged under a net in the back and tied together in a bow at front, leaving space for seemingly nonchalant yet carefully arranged curls—also matches the contemporary taste for ancient culture.