Charles Mercier Dupaty (French, 1771–1825)
Mme Potter, née Vaublanc, ca. 1820
Plaster, 26 x 18 1/2 x 9 1/2 in.
Inscribed in black ink on white label, base bottom: Aux Minerve, Chantal et Roger de Vaublanc/ 1903
Gift of Charles Janoray
2001.20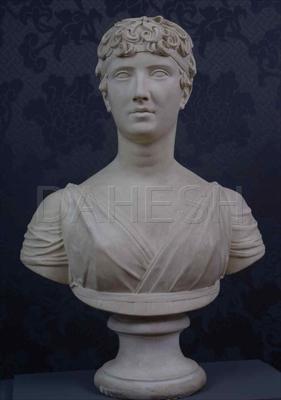 Madame Potter (née Laurence Viénot de Vaublanc) was the daughter of the Comte deVaublanc. When she posed for this portrait she was almost forty, already a mother, and soon to be married for a second time. Mme Vaublanc appears as a demure society beauty, her light dress à l'antique , the fashion at the time. Her hairstyle—arranged under a net in the back and tied together in a bow at front, leaving space for seemingly nonchalant yet carefully arranged curls—also demonstrates the contemporary taste for ancient culture. This sculpture is a late example of the Neoclassical style, which emerged in Rome during the mid-18th century. Neoclassicism was inspired by numerous examples of ancient art that had come to light at archaeological sites such as Pompeii, which was excavated in 1748. Neoclassicist sculptures often idealized its sitters, recalling the busts of Roman noblewomen and goddesses.