Egron Sillif Lundgren (Swedish, 1815–1875)
Oriental Beauty with Coffee Pot
Watercolor and gouache, 28 x 22 in.
Signed lower left: EL
2012.14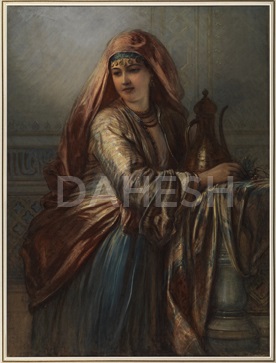 Lundgren was a celebrated watercolorist, and Oriental Beauty with Coffee Pot demonstrates his skill at depicting the light that reflects off the rich fabrics and polished coffee pot. Lundgren was a formidable traveler, visiting places as distant as India (1857–58) and Egypt (1861–62), and he documented those travels with watercolors like Oriental Beauty with Coffee Pot. This genre of image, in which a young, beautiful woman is exotically garbed and situated, was very popular with 19th-century audiences, and Lundgren painted a number of them, as well as portraits, landscapes, and genre scenes. He describes the exotic nature of the female subject through her luxurious non-Western garb and by the beautiful copper coffee pot that she grasps—for, although coffee was widely drunk in Europe by the 19th century, the beverage has long-standing associations with the Middle East and North Africa.