Eugène-Joseph Verboeckhoven (Belgian, 1798–1881)
Sheep on the Coast, 1878
Oil on canvas, 56 1/4 x 71 1/4 in.
Signed and dated lower left: Eugene Verboeckhoven Ft. 1878
1997.21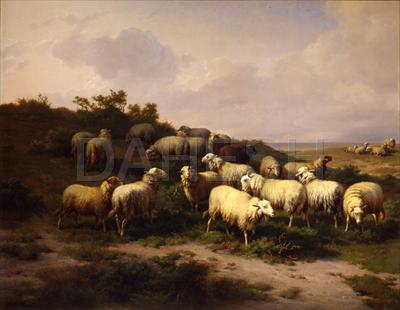 Born into a poor family of artists, Verboeckhoven rose to international prominence in the field of animal painting. His fame in this genre was so widely recognized that he regularly collaborated with other artists and added animals to their landscapes. His first master was his father, Barthélémy (1754–1840), a sculptor of neoclassical figures and animals. After studying with the Ghent sculptor Albert Voituron (1787–1847), Verboeckhoven decided to turn his attention to painting. In 1822, soon after his debut at the Ghent Salon, he was commissioned to paint an equestrian portrait of King William I, ruler of the newly formed kingdom of the Netherlands. His career was now secure, and his works, which echoed the 17th-century manner of Paulus Potter (1625–1654), were widely collected. By 1880, forty-four of his paintings were known to hang in the private collections of wealthy Americans, who undoubtedly found his pictures of livestock in peaceful surroundings particularly appealing. Although his paintings were studio creations, the remarkable realism and detail of his animals was the result of direct observation. Bathed in a golden light, the pristine clarity of each strand of wool and blade of grass in this painting reveals Verboeckhoven's sculptural training.