François-Léon Benouville (French, 1821–1859)
Study of a Man's Head in Profile
Graphite on wove paper, 4 3/8 x 4 3/8 in.
Stamped in red ink lower right: Léon Benouville
2002.27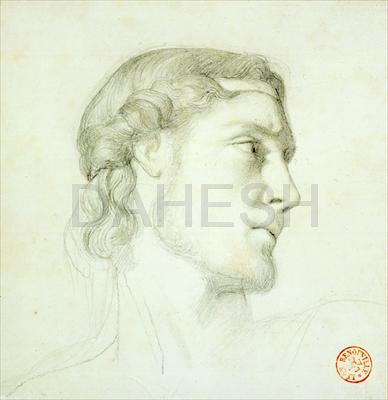 This study of a man's head for an unidentified painting is characteristic of Benouville's consummate draftsmanship, attention to detail, and strict adherence to the academic principles of the tête d'expression (representing emotion through facial expression), a subject of study and competition in 19th-century art academies. Benouville was known to strive for perfection and, as noted by the critic Philippe Burty in 1859, he created countless preparatory studies of fragments and details for his compositions.
Benouville had the skills and the academic training to become a highly successful artist. Pupil of François-Edouard Picot and Léon Cogniet at the École des Beaux-Arts in Paris from 1837, he won the Prix de Rome for Jesus in the Praetorium (École Nationale Supérieure des Beaux-Arts) in 1845, and left for Rome where he spent four years. A prolific artist, Benouville produced mostly mythological and religious paintings, but his early death from typhoid at the age of thirty-eight cut short a successful career.