Frank Dicksee (British, 1853–1928)
Romeo and Juliet, ca. 1880s
Oil on six joined pieces of wood, 7 5/8 x 5 11/16 in.
Initialed in reverse in lower right corner: F.D.
1999.18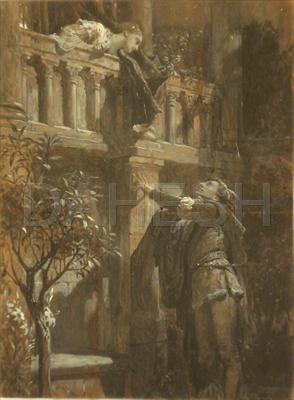 In addition to his paintings (which he exhibited nearly annually at the Royal Academy from 1876–1904), Dicksee also worked as an illustrator for many magazines and books. In the 1880s, the British publisher Cassell & Co. hired him to illustrate several books, including The Royal Shakespeare, the writer's complete works, and The Poet's Works in Chronological Order, from the Text of Prof. Delius (1883). In Romeo and Juliet—painted on a woodblock in monochrome and in reverse in preparation for printmaking, Dicksee depicts the famous balcony scene from Act II, Scene II, when the two lovers profess their love for one another. Juliet's lines "Good night, good night! parting is such sweet sorrow,/ That I shall say good night till it be morrow" were included below the steel plate engraving that appeared in The Royal Shakespeare. A drawing of the scene was exhibited in 1881 and declared "a graceful composition of the immortal lovers" by The Magazine of Art.