Franz Dvorak (Czech, 1862–1927)
The Angel of the Birds, 1910
Oil on canvas, 42 x 80 in.
Signed and dated lower left: Fr. Dvorak 1910. Signed and inscribed on a label on the stretcher: The Angel of the Birds/Mr. Franz Dvorak/Sylvadene/284 Willesden Lane/NW/74 Riegrovo nah. Prag Bohemia
1997.24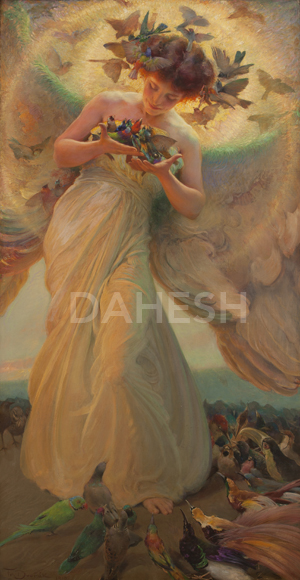 The Angel of Birds reveals the diverse influences of the Pre-Raphaelites, Aesthetic Movement, and fairy painting—as well as Dvorak's interest in nature and the imaginary. Diverse birds, their individual characteristics carefully depicted, surround the central, angelic figure. Their vibrant, almost otherworldly colors are mirrored in her expansive wings, a dazzling effect reminiscent of William Holman Hunt's late work, The Lady of Shalott (c. 1890–1905, Wadsworth Atheneum). While Dvorak painted several colorful and mystical pieces like the present work, among his eager American audience, Dvorak's religious paintings were the most anticipated. His Saint Lawrence Distributing the Treasures of the Church to the Poor (Gallery Oldham, Oldham, UK), which was discussed in the British and American press when exhibited at the Salon Champ de Mars in Paris in 1899, is remarkably somber in comparison to the bright exuberance of the present painting.