Gustave Doré (French, 1832–1883)
Moses before Pharoah, ca 1869–1872
Charcoal, pen, ink wash, with white gouache on wove paper, 22 x 33 in.
Inscribed lower right: Approuve la copie comme trés fidèle et excellente / G Doré
1999.16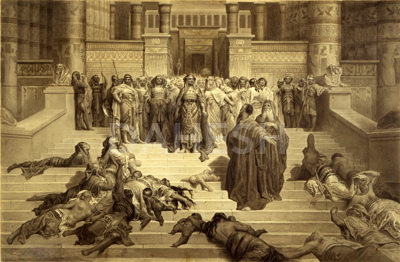 Moses Before Pharaoh represents a moment from the Old Testament (Exodus 11, 12). God has sent the tenth plague, killing the first-born of Egypt in order to convince Pharaoh to release the Jews from enslavement. Here, the standing figures of Moses and Aaron are surrounded by prostrate Jews in the foreground, while Pharaoh stands at the apex with his extensive court of priests and advisors. Doré incorporated Orientalist details in the garb of the Egyptians and the surrounding architecture, which would have appealed to Victorian audiences familiar with images and travel accounts from the Holy Land. But Doré also incorporates certain aspects of traditional biblical painting. The perspective, organization of figures, and gestures recall such Renaissance works as Paolo Veronese's Wedding Feast at Cana (Musée du Louvre, Paris) and Raphael's Vatican fresco, The School of Athens.
Born in Strasbourg, Doré began drawing at an early age and became perhaps the 19th century's most prolific illustrator. He is best known for his illustrations of such literary masterpieces as Byron's Complete Works, Dante's Divine Comedy, and Cervantes' Don Quixote, and, most famously, the "Doré Bible." After continued attempts at ambitious narrative paintings were poorly received in France, in 1868 he opened the Doré Gallery in London's Bond Street and became a critically and commercially successful artist. An inscription with this highly finished drawing attests that it was approved as preparation for a steel engraving to be exhibited and sold at the Doré Gallery. Doré's Biblical compositions were often monumentally scaled with dramatic incident, large crowds, detailed costumes, and architecture, making them the late 19th-century equivalent of cinematic blockbusters.