Gustave Doré (French, 1832-1883)
Moses before Pharoah, ca 1869-1872
Charcoal, pen, ink wash with white gouache on wove, 22 x 33 in.
Inscribed lower right: Approuve la copie comme trés fidèle et excellente / G Doré
1999.16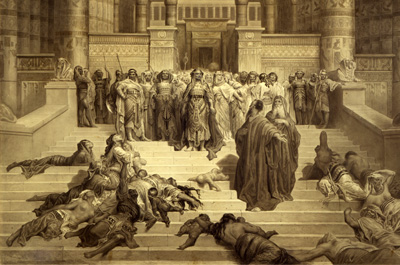 The subject of Prostrate Jews is the aftermath of the tenth plague, related in the Old Testament (Exodus 11, 12). Prostrate Jews surround the standing figures of Moses and Aaron in the foreground, a powerful composition that recalls Raphael's Vatican fresco, The School of Athens. The Pharaoh stands at the apex with his extensive court of priests and advisors, and in the background a detailed Egyptian architectural setting demonstrates the intersection of highly popular Orientalist genre with religious imagery.
Born in Strasbourg, Doré began drawing at an early age and became perhaps the 19th century's most prolific illustrator. He is best known for his illustrations of such literary masterpieces as Byron's Complete Works, Dante's Divine Comedy, and Cervantes' Don Quixote, and, most famously, the "Doré Bible." After continued attempts at ambitious narrative paintings were poorly received in France, in 1868 he opened the Doré Gallery in London's Bond Street and became a critically and commercially successful artist. An inscription with this highly finished drawing attests that it was approved as preparation for a steel engraving to be exhibited and sold at the Doré Gallery. Doré's Biblical compositions were often monumentally scaled with dramatic incident, large crowds, detailed costumes, and architecture, making them the late 19th-century equivalent of cinematic blockbusters.