Gustavo Simoni (Italian, 1846–1926)
Arab Market Scene, 1883
Oil on canvas, 9 x 14 1/8 in.
Signed and dated lower right: G. Simoni 1883
1997.43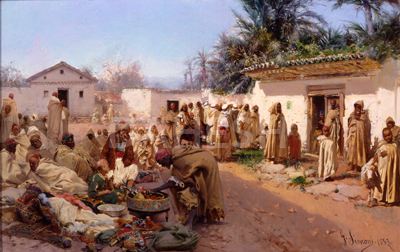 Arab Market Scene is the type of on-site composition that Simoni developed into paintings in his studio from travel sketches in North Africa and the Middle East. Although best known for his Orientalist works depicting mosques and other Islamic subject matter — he was particularly fascinated with the village festivals he witnessed in North Africa — Simoni also created images of everyday life, like this market scene, which depicts the daily workings of a village community conversing, walking, and selling beautifully crafted, decorative wares. There is a documentary quality to Simoni's Arab Market Scene. It lacks the vibrant colors, patterns, and fantasy of North African life often found in Orientalist works. Instead, Simoni carefully represents the sandy colors of the hooded cloaks and the exposed soil, and the whiteness of the buildings, only minimally punctuated by the vibrancy of the striking goods for sale in the lower left corner or the verdant patch of grass and foliage in the upper right. Having spent two full years in Tunisia and Algeria in 1877–79 and additional shorter trips to the region in the 1880s, Simoni would have had ample first-hand experience with scenes of daily life like this.