Henry Garland (British, 1854–1890)
Cows in the Highlands, 1874
Oil on canvas, 30 x 50 in.
DM4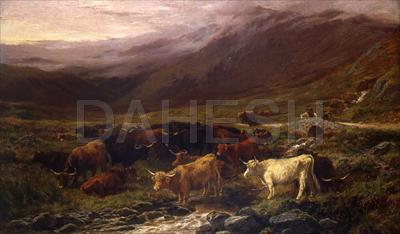 Little is known of Garland, who lived in London and Winchester, a city to the southwest of the capital. He exhibited at the Royal Academy between 1854 and 1890 and also at the British Institution and the Royal Society of British Artists. Garland specialized in scenes of rural life and landscapes with cattle, as seen in the present painting.