Hermanus Koekkoek the Elder (Dutch, 1815–1882)
Sailing Vessels in an Estuary, 1853
Oil on canvas, 15 1/2 x 21 3/4 in.
Signed and dated lower right: H. Koekkoek 1853
1997.63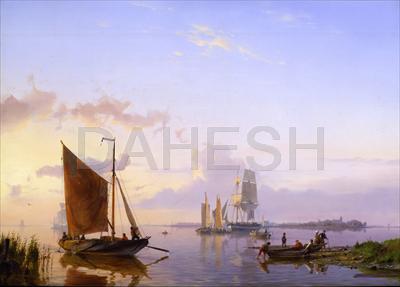 The simple genre scenes and naturalistic landscapes of 17th-century Dutch painting exerted a powerful hold on its 19th-century heirs. Koekkoek the elder, a member of the Dutch Royal Academy in Amsterdam, was the youngest of four brothers who founded a dynasty of successful painters that included his two sons Hermanus Junior and Willem. This composition, showing a small band of water beneath a large, glowingly lit sky, harkens back to the grand waterway scenes of Aelbert Cuyp (1620–1691). In a country dominated by and dependent upon the sea and waterways, the Dutch bourgeoisie formed an eager audience for such idyllic scenes that also reminded them of their nation's prosperous and prominent past.