Hubert Sattler (Austrian, 1817–1904)
View of Jerusalem from the Mount of Olives, 1847
Oil on panel, 14 1/4 x 24 1/2 in.
Signed twice and dated lower right: H. Sattler/Hubert Sattler 1847
2012.17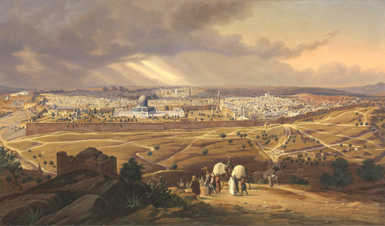 The Mount of Olives provides travelers with a breathtaking view of Jerusalem, and many 19th-century artists produced views from this perspective. In his View of Jerusalem from the Mount of Olives, Sattler employs devices present in many panoramic views: a dark foreground distinctive from a bright background and staffage figures in the foreground to provide a sense of scale and human activity.The son of Johann Michael Sattler, famous for painting the Great Panoramic View of the City of Salzburg, Hubert Sattler decided at a young age to follow in his father's footsteps. He studied at the Vienna Academy of Art, and in 1829 embarked with his family on a ten-year tour of Europe. He first traveled to the Middle East in 1842, visiting Constantinople, Lebanon, and Jerusalem and making numerous studies of various locations along the way. Sattler painted a number of "cosmoramas" — works enhanced with lighting effects and viewed through peepholes to create a greater level of realism, which were particularly successful when Sattler brought them to America in 1850.