James Ward (British, 1769-1859)
The Farmyard, 1811
Oil on canvas, 27 5/8 x 36 in.
DM 734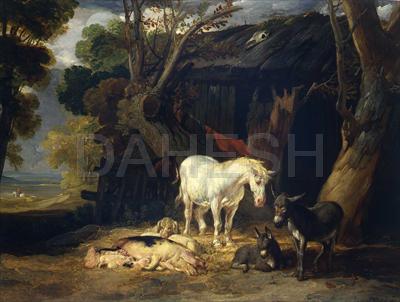 Ward began his career as a printmaker and was granted the official title of Mezzotint Engraver to the Prince of Wales in 1794. As a painter he was mostly self-taught and worked in a variety of styles. He would eventually excel in landscape and animal paintings, and around 1801 received a major commission from the Board of Agriculture to paint more than 200 portraits of livestock on farms throughout the country. In 1811, the year he painted this charming farmyard scene, Ward was elected a Royal Academician.