Jean-Achille Benouville (French, 1815–1891)
Landscape with Animals, 1842
Oil on canvas, 22 x 18 3/8 in.
Signed and dated lower right: Achille Benouville. 1842
1999.1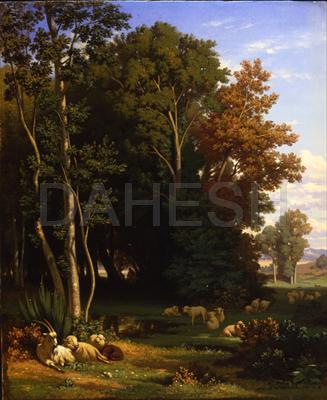 In 1845 Jean-Achille Benouville won the Prix de Rome for historical landscape, an honor awarded every four years from the competition's inception in 1817 until its suspension in 1863. Coincidentally, his brother François-Léon Benouville (1821–1859) won the Prix de Rome for history painting in the same year. Both were awarded a scholarship to the French Academy in Rome, François-Léon for five years and Jean-Achille for four. This disparity and the difference in frequency of each contest (the competition for history painting occurred annually) illustrate the lesser status the Academy accorded landscape, even as a backdrop for a historical theme.
Benouville himself only produced a handful of true historical landscapes, preferring instead non-narrative bucolic scenes. But the classical landscape formula nurtured by the Academy—a smooth transition from foreground detail to background vista, carefully delineated trees and leaves, and balanced arrangements of animals and figures—can still be detected in the present picture. He exhibited this work at the 1842 Salon where it was well received by the critic of L'Artiste. Benouville remained in Italy on his own until 1870, continuing to submit to the Salon idealized landscapes of the Roman countryside that demonstrated the influence of his friend, Camille Corot (1796–1875).