John Varley, Jr. (British, 1850–1933)
The Nile, Cairo, 1882
Oil on canvas, 20 x 15 in.
1995.55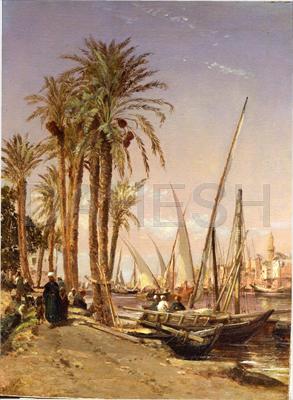 Varley Jr. had a passion for sailing, and in 1874 he built his own yacht and sailed to Egypt, where he remained for two years painting life in the country, especially vignettes of Cairo. Some of Varley Jr's paintings of Egypt reflect his interest in maritime pursuits, and several of his works show the distinctive river boats that dot the Nile. Egyptian vessels were a popular attraction with Europeans because their design varied quite dramatically from Western sailboats. Prior to 1870 and the introduction of the steamboat, well-off visitors to Egypt would cruise the Nile over the course of several months in a dahabiya, a large houseboat-like vessel. The boats in the present work, however, appear to be mostly feluccas, smaller vessels with distinctive lateen sails, used by traders on the Nile to this day.