John William Godward R. B. A., British, 1861–1922
The Necklace, 1914
Oil on canvas, 19 3/4 x 13 1/2 in.
Signed and dated upper right: John Godward 1914
1997.66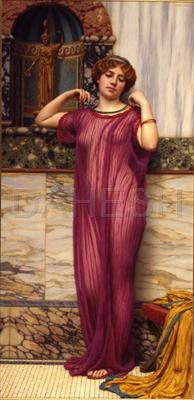 Godward's artistic development coincided with the final flicker of Victorian classicism, a tradition that celebrated beautiful, untroubled women in a luxurious ancient world. He enjoyed a highly successful career exhibiting regularly at the Royal Academy between 1887 and 1905, but an increasingly hostile art world open to modernism, coupled with his own depression, led him to commit suicide at the age of sixty-one.
Although he is usually considered a follower of better known painters such as Frederick Lord Leighton and Sir Lawrence Alma-Tadema, Godward differed in his vision of antiquity. He rarely drew from history and mythology like Leighton, and did not produce the archeological reconstructions of Alma- Tadema. Instead, Godward specialized in portraying lovely, gracefully languorous women — usually dark-haired with see- through gowns — often alone in settings that evoke an opulent but unspecified Greco-Roman environment. There is little activity and even less narrative in this idyllic realm. His astonishing ability to portray variegated marble and intricate drapery folds is apparent in The Necklace. Here, the physical charms of a young woman are all but revealed by the diaphanous fabric of her garment, in stark contrast to the folds adorning the bronze statuette of Athena, the virgin goddess of wisdom, which appears behind in a mosaic-decorated niche.