José Tapiró Y Baró (Spanish, 1836–1913)
A Tangerian Beauty, ca. 1891
Watercolor on paper, 26 x 18 1/2 in.
Signed and inscribed lower right: Tapiró Tanger
1995.117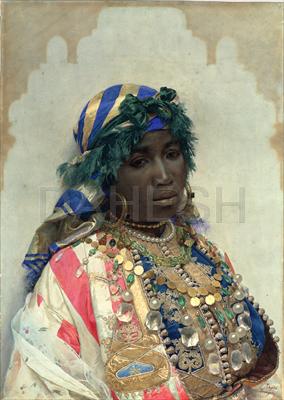 A Tangerian Beauty is a splendid example of Tapiro Baró's North African ethnographic types that showcase the artist's skill and remarkable attention to detail. In this vivid watercolor, the silken gleam of the headscarf, colorful feathers, the glint of gold, glow of pearls, elaborate costume, and the careful study of a particular physiognomy contribute to the remarkable immediacy of the image. The frame is original to this work, and apart from several decorative motifs, contains the number 1309, which probably refers to the Muslim Hijri calendar, which started counting in 622 AD to commemorate the Prophet Muhammad's migration from Mecca to Medina. If converted to the Gregorian calendar, the year would be about 1891 AD.
After studying at the École des Beaux Arts in Barcelona, Tapiro Baró went to Rome where he spent many years, and began his career painting historical and genre subjects. Influenced by his compatriot and close friend Mariano Fortuny y Marsal — the preeminent Spanish Orientalist and watercolorist of the 19th century — Baró developed a taste for Orientalist subject matter. The two artists visited Morocco together in 1860, and again in 1871. By 1876, Baró settled in Tangiers, the Moroccan port city just across the narrow Strait of Gibraltar. His varied works of Moroccan genre scenes, portraits, and ethnographic types — inspired by Fortuny and contemporary Italian genre painters — became commercially successful especially in England and America. Baró participated in both the 1889 and 1900 Exposition Universelles where he received silver medals.