Juan Giménez-Martín (Spanish, 1858–1901)
In the Harem
Oil on panel, 9 1/4 x 15 1/2 in.
Signed lower left: Giménez-Martín / Roma
1995.58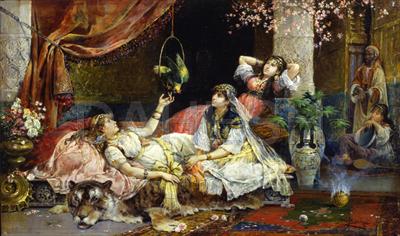 Also known as 'Jiménez-Martín', the artist depicted the harem, which was one of the most popular themes in Orientalist painting. From the Arabic word meaning "unlawful," "protected" or "forbidden," the harem was a private, secluded area in the Muslim household where women and children resided. For the male European Orientalist painter, the harem provided an enticingly exotic mix of sex and subservience, a mysterious opium-scented sanctuary where languid, sensuous odalisques bathed, amused themselves and waited under the watchful eye of eunuchs. However, since harems were inaccessible to outsiders, especially Western men, the reality of this space was largely unknown. But this was a minor impediment, and the harem of fantasy and imagination was endlessly explored and elaborated in paint. Giménez-Martín presents the essential elements of opulent costume and lush setting.