Jules Breton (French, 1827–1906)
Study for The Tea Break, 1885
Oil on canvas, 10 1/4 x 13 3/4 in.
Signed and dated: J Breton / 10 Août 85
1996.12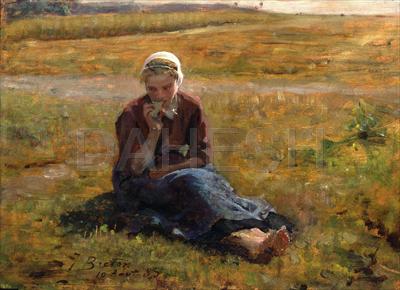 Jules Breton, an internationally acclaimed painter of rural life, was also a writer whose two volumes of poetry celebrating the traditional values of the French peasant, The Fields and the Sea (1875) and Jeanne (1880), were admired by both Victor Hugo and Van Gogh. He nurtured his keen interest in the customs of the countryside by observing farm laborers near his native village of Courrières, in the north of France. Like several of his contemporaries such as Millet, he focused on peasants, whom he imbued with a sense of timelessness and spirituality.
This freely brushed oil sketch is a study for a large canvas of three women taking a lunch break on the field, which he exhibited at the 1886 Salon as The Tea Break (location unknown). The previous August he went for several days out in the fields, studying the laborers. Here a woman from Courrière, Catherine Bibi, posed for him, seated on the stubble and her bonnet gleaming in the sun. While a woman in a similar pose is incorporated in a preparatory drawing for the painting, the final painted composition no longer includes that figure. Describing the 1886 Salon painting, a critic noted that Breton "transforms into the ideal the lives of his humble heroines." The simple gesture and pensive gaze of this peasant girl highlights this confluence of the real and the ideal.