Jules Clément Chaplain (French, 1839–1909)
Paul Baudry, ca. 1887
Silvered bronze, 3 15/16 in. diam.
2002.43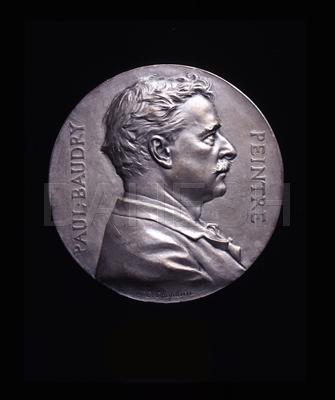 Chaplain won the Prix de Romefor medal-engraving in 1863, and went on to have a highly successful career, including election to the Académie des Beaux-Arts in 1881 and an appointment as Art Director of the Sèvres Porcelain Manufactory in 1896. In 1877 Chaplain became the official medallist of the French government, creating a series of presidential portrait medals. His many animated and realistic medallions of intellectuals and artists, however, constitute his greatest achievement.
Obverse: Portrait in profile of the painter Paul Baudry. Inscribed: PAUL BAUDRY PEINTRE. Signed: J.C. CHAPLAIN.
Reverse: An Eros holding a palette and brushes gazes towards the starry sky; behind him is the Palais Garnier. Baudry was one of the artists involved in decorating the interior of this opera house designed by the architect Charles Garnier.