Aimé-Jules Dalou (French, 1838–1902)
The Punishments, or Les Châtiments, modeled mid-1880s
Bronze bas-relief, 14 1/8 x 10 1/4 in.
Inscribed lower left: Dalou. Foundry mark lower right: Susse Fes Edts. Stamped lower right: H.
2002.59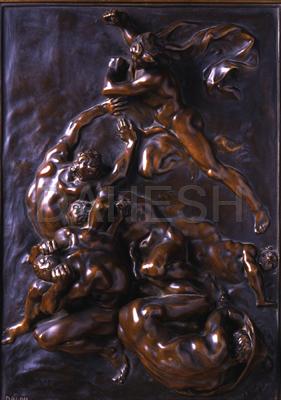 Dalou is recognized as one of the foremost sculptors of the 19th century. His many public sculptures, such as Charity (1877–79, Royal Exchange, London) and Triumph of the Republic (1879–99, Place de la Nation, Paris), attest to his strong belief in social and political equality and brotherhood, as did his grand unrealized project called Monument to Workers. After the fall of the Paris Commune in 1871, Dalou went into exile in London, where he also enjoyed acclaim for his portraits and more intimate subjects depicting women.
Les Châtiments (The Punishments) is a collection of Victor Hugo's (1802–1885) satirical poems attacking Emperor Napoleon III (reigned 1852–1870) after his 1851 coup. Hugo published this work two years later in Belgium, where the author had gone into exile. After the fall of the Second Empire in 1870, the work was republished in France. Dalou made this relief so that an etching after it might be included as a frontispiece to a national edition of Hugo's works. He later exhibited a bronze cast of this relief at the Salon of 1890. Dalou admired Hugo both as an artist and as a political man, and this relief is one of several works by Dalou associated with the great Romantic writer. Surely his admiration had grown during the 1870s: Dalou himself was in exile for his involvement with the Paris Commune, and Hugo demanded persistently that amnesty be granted to the Communards.