Léon Augustin Lhermitte (French, 1844–1925)
The Samaritan at the Well, 1897
Pastel on paper, adhered to canvas, 15 3/4 x 22 in.
Signed lower right: L. Lhermitte
1997.52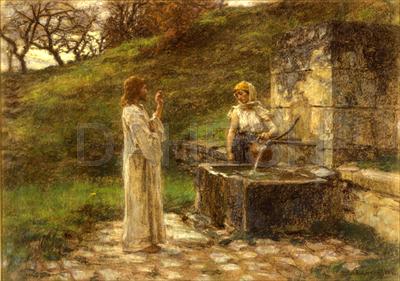 Lhermitte made a career out of his belief in the noble and religious peasant, a view shared by many in 19th-century France. While some of his pictures merely endow harvesters, shepherds, and gleaners with a vague aura of spirituality, others are more literal in their equation of rustic simplicity with religion, depicting Christ interacting directly with peasants in their own homes. In this pastel, Jesus appears to a French peasant drawing water. They exist in the same plane; she acts not as one hearing voices or having visions, but rather as one looking up to see who has interrupted her task. This Christ of the countryside lacks a halo, wears a plain robe similar to the woman's coarse garments, and has his feet planted solidly on the dusty ground.