Léon Bonnat (French, 1833–1922)
An Italian Woman, ca. 1858-61
Oil on cardboard, 10 5/8 x 6 7/8 in.
2004.11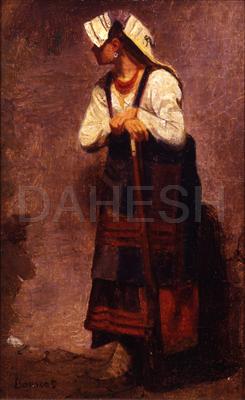 As a teenager, Bonnat moved with his family to Madrid where he received his initial artistic training and was deeply influenced by Spanish Old Master painting. In 1854, he moved to Paris and studied under Léon Cogniet (1794–1880) at the École des Beaux-Arts. He placed second for the Prix de Rome in 1857, but received a scholarship from supporters in his native Bayonne to study in Rome from 1858 to 1861. It was there that he made many works depicting Italians in their colorful costumes, including this charming oil sketch of a young woman with her remarkable headdress.