Léopold Robert (Swiss, active in Italy, 1794–1835)
Woman Bringing Provisions to Bohemians and Brigands
Graphite and red chalk on laid paper, 9 1/4 x 11 1/4 in.
Inscribed: femme apportant des provisions aux bohemiens et contrebandiers
Gift of DeCourcy E. McIntosh
2003.41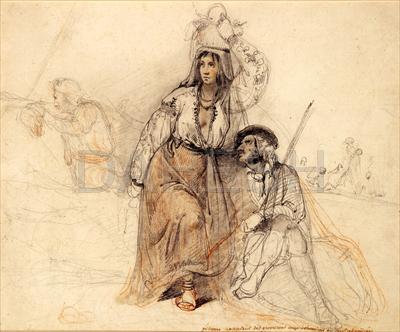 After studying with Jacques-Louis David (1748–1825) in Paris, Robert was initially successful as a portrait painter. His foreign nationality, however, prevented him from competing for the Prix de Rome, so a Swiss patron financed his studies in Italy. There Robert remained for the rest of his life, until he committed suicide for unknown reasons.
In Italy he specialized in genre scenes of brigands, who were mostly outlaws living in the countryside. Countless painters and poets romanticized them as a free people, unburdened by the stifling etiquette of society, and depictions of them were very popular with foreign tourists. This drawing relates to Robert's numerous paintings of brigands and other picturesque Italian folk, culminating in his magnificent Arrival of the Harvesters in the Pontine Marshes (1830, Musée du Louvre, Paris).