Louis Béroud (French, 1852–1930)
The Earnest Pupil in the Rubens Room, Louvre, Paris, 1902
Oil on Canvas, 21 1/4 x 25 1/2 in.
Signed lower left: Louis Béroud 1902
2000.3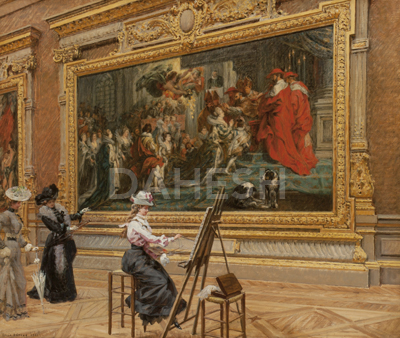 The Earnest Pupil in the Rubens Room, Louvre, Paris is an excellent example of the types of scenes depicting the experiences of artists and museum visitors at the Louvre that delighted Béroud. In it, a female artist paints before The Coronation in St. Denis from Peter Paul Rubens's Marie de Medici cycle (1622–1624). Somewhat more practically dressed than the two female museum visitors admiring the painting behind her, Béroud's pupil wears a sober black skirt and light pink shirtwaist, teetering on her stool as she reaches to apply paint to canvas. Rubens's work presents Marie de Medici being crowned Queen of France and, according to the American writer Mary Knight Potter in 1904, was "universally regarded as being not only the best of the series, but one of the really fine compositions of Rubens's life." That Béroud depicts this female artist—the earnest pupil—sitting before such a great work of art, learning from it, may reflect politics around women's art education at the turn of the century. Opinions about the impropriety of women studying from nude models were hotly contested in debates that led to women's admittance to the École des Beaux-Arts in 1897. In lieu of drawing live models, copying Old Masters was seen as a viable alternative for female artists.