Louis-Ernest Barrias (French, 1841–1905)
The Young Girl of Bou-Saâda, or The Flower Seller, 1894
Bronze, 13 x 10 1/2 x 11 in.
Inscribed on base left: E. Barrias Susse. Foundry mark: Suss fres. Edts. Stamped and dated on base right: COPYRIGHT BY SUSSE FRES 1894
1995.27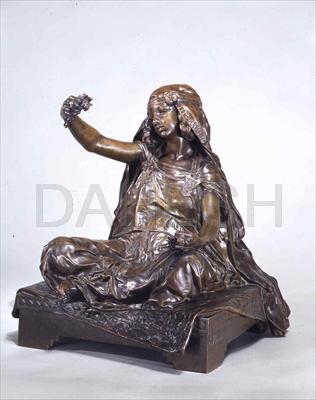 This bronze is a reduction of one of Barrias's most famous works, an 1890 monument in Montmartre's cemetery for the tomb of his friend and former pupil, the Orientalist painter Gustave Achille Guillaumet (1840–1887). Guillaumet died in the Algerian town of Bou-Saâda, a French outpost on the edge of the Sahara desert. Barrias was not only inspired by one of Guillaumet's own paintings, but also reused an earlier composition of his own, The Spinster of Megare, showing a woman spinning wool in a similar pose. Here the girl's meditative pose and downward gaze convey a melancholy mood appropriate to the work's memorial nature. This sculpture was a great success for the Susse Frères foundry, which made bronze editions in three sizes, each available in two different versions—the full figure, and also a bust of the girl. The foundry also produced more elaborate editions that contain various materials and inlay work.