Paul Delaroche (French, 1797–1856)
Lamentation, 1820
Oil on canvas, 19 1/2 x 12 7/8 in.
Inscribed on the reverse of the canvas: à Charles Dubuquoy / attaché à la Maison / de S.A.S. Mgr le Duc / D'Orléans / P. Fecit h. De la Roche 1820. 24 Septembre
1999.7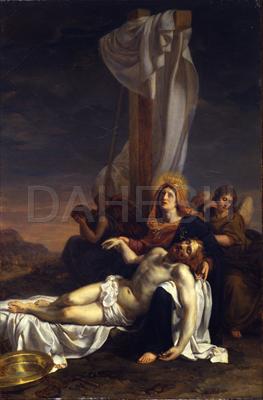 This is one of Delaroche's earliest known works and exemplifies the religious imagery that found favor in the opening years of the Bourbon Restoration (1814–1830), when the Catholic church regained much of the power it had lost during the French Revolution. In 1820 the Duchess of Orléans, wife of the Duke of Orléans (the future King Louis-Philippe), commissioned the young Delaroche, still an unknown student in the atelier of Baron Gros, to paint a Lamentation for the family chapel at the Palais Royal in Paris (ca. 1820, Musée Condé, Chantilly). That same year, he also executed this smaller version—perhaps a presentation model submitted for final approval. However, the two compositions differ substantially. So, perhaps this was created as an independent work painted for the member of the ducal household to whom it is dedicated. Delaroche created a traditional but deeply moving depiction of the mourning Virgin, whose intense suffering is symbolized by the swords that pierce her heart.