Peder Mork Mønsted (Danish, 1859–1941)
Portrait of a Nubian
Oil on panel, 9 1/4 x 7 1/2 in.
Signed and inscribed top right in Arabic: Peder Mønsted / Tunisia
1995.23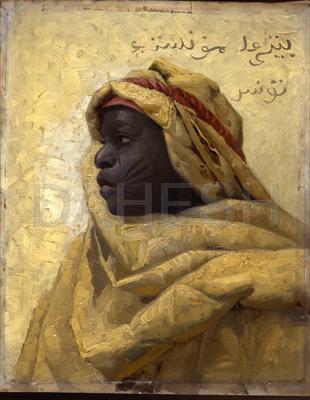 Best known as a prolific painter of Nordic landscapes, Mønsted trained at the Copenhagen Academy. He did travel south, however, and visited Switzerland, Italy, and North Africa. This sensitive portrait of a cloaked Nubian epitomizes the artist's keen interest in ethnography. The flowing Arabic inscription, comprising his signature and the word "Tunisia," echoes the tribal markings on the Nubian's cheek and complements Mønsted's subtle interplay of free brushwork and delicate color. Mønsted also painted a standing black guard, dated 1886, which might give an indication to when this painting was created.