Pierre Jules Cavelier (French, 1814–1898)
Tragedy, 1854
Plaster, 33 15/16 x 20 1/2 x 17 1/2 in.
Signed and dated on front pedestal: Cavelier 1854
2003.12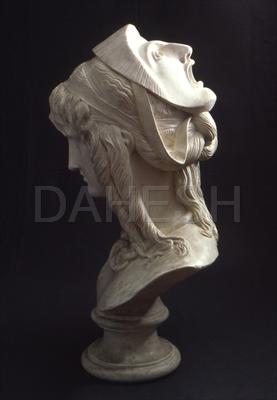 Having won the Prix de Rome at the École des Beaux Arts in Paris, Cavelier lived at the Villa Medici as a pensionnaire of the French Academy from 1843–1847. Every year, the laureates had to send back a work (the so-called envoi de Rome) to Paris so the Academy could judge their artistic progress. In 1845, Cavelier created a study of a head (tête d'étude) called Tragedy, as his second year envoi. Ten years later at the 1855 Universal Exhibition, he demonstrated his continuing pride in this composition by showing it again in a bronze version. The present plaster relates to the creation of this untraced bronze, as it is dated 1854. The title for this work not only alludes to the figure's stern downward gaze but also to the theatrical mask of Tragedy–as opposed to the smiling mask of Comedy–that rests on the back of the head. (See also Gérôme'sStudy for Rachel) Ancient Greek actors wore such masks attached with ribbons that allowed them to place the mask on the face or on the top of the head. The snake twined around her neck in the form of a necklace suggests a connection between the tragic frozen expression of the mask and the petrifying gaze of Medusa.