Princess Marie Christine d'Orléans (French, 1813–1839)
Joan of Arc Praying, cast after 1843
Bronze, 29 x 12 x 12 in.
Signed on base top right: Marie d'Orléans. Foundry mark on rear base right: SUSSE FRES
2002.16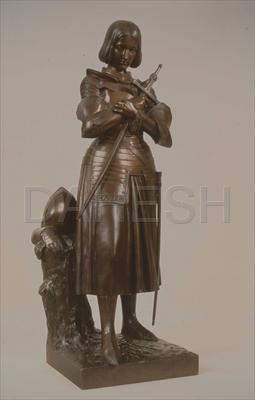 Princess Marie d'Orléans was the youngest daughter of the French king Louis-Philippe and a student of Ary Scheffer and David d'Angers. During his reign, Louis-Philippe commissioned art to further his political objectives  — the most ambitious example was his transformation of the Château de Versailles into a national museum commemorating the "glories of France." Paintings and sculptures were carefully selected to create a unified vision of the country's most significant leaders at a time when different political factions were constantly vying for power. In 1835, the king commissioned from his daughter a large marble of the medieval heroine and saint Joan of Arc (Château de Versailles) after Jean-Jacques Pradier  failed to complete a suitable design. Louis-Philippe's visit to the statue is commemorated in a painting by Auguste Vinchon, which also hangs in the Château de Versailles. The present sculpture is one of a number of reduced replicas.
Marie d'Orléans stressed Joan's martial character by showing her in full armor, with helmet and gauntlets at her side. She bends her head as she prays for divine guidance and clutches her sword over her heart as if it were a crucifix, graphically conveying her piety. The sculpture was an immediate success and earned high praise at the Salon of 1837. After the Princess's early death from pulmonary disease, the mayor of Orléans requested a bronze replica for the local city hall, and Louis-Philippe authorized another reduction for Domrémy, Joan of Arc's hometown.