Marcello, pseudonym for Adèle d'Affry, Duchess of Castiglione-Colonna (Swiss, 1836–1879)
The Abyssinian Chief, modeled 1869
Silvered bronze, gilt detail, set on a veined marble base, 22 7/8 x 14 1/4 x 8 3/4 in.
Signed lower right above base: Marcello, duchesse de Castiglione, Calonna
2000.20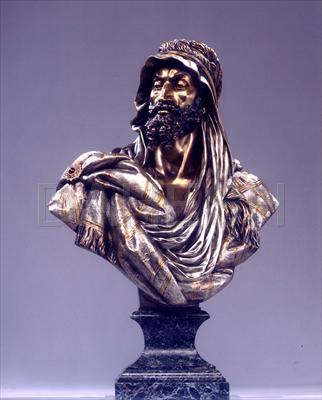 While studying sculpture in Rome in 1856, Adèle d'Affry married into a branch of one of the greatest princely families of Rome. Her husband, however, died of typhoid fever that same year. In an attempt to circumvent the challenges faced by women in the 19th century who wished to become professional artists, she made her debut at the 1863 Salon under the male pseudonym "Marcello." The high quality of her work, however, soon caused her true identity to be revealed, although she continued to use "Marcello" as her professional name.
The first version of this bust was executed in 1869, combining a marble headdress and drapery with a cast bronze face (Salon of 1870, location unknown), and attracted warm praise from the critics. She was then commissioned to make several replicas, allowing her to experiment with different materials, casting techniques, and finishes, as is beautifully demonstrated in this silvered bronze with its gilt details, finished off with a precious stone. A life-size marble version is in the collection of the Musée d'Orsay in Paris.
For a comparable bust in the collection, see Cordier.