Rosa Bonheur (French, 1822–1899)
Shepherdess and Two Cows in a Meadow, ca. 1842–45
Oil on canvas, 13 x 18 in.
Signed lower right: Rosa Bonheur
2009.1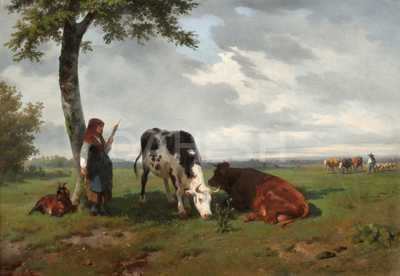 All her life and long artistic career Rosa Bonheur was passionate about animals and nature, observing them closely in the countryside, zoos, and in her family's well-stocked menagerie of pets — later including lions at her country estate. Shepherdess and Two Cows in a Meadow typifies her frequent depictions of sheep and cattle, either working or resting in an idyllic landscape. This small painting is one of Bonheur's early works, and displays her ability to combine the academic principles she had learnt from her father Raymond Bonheur with an intense naturalism and bold brushwork.