Théodore Caruelle d'Aligny (French, 1798–1871)
Waterfall at Grindelwald, 1832
Pen and brown ink on wove paper, 11 1/2 x 18 1/2 in.
Signed, dated, and inscribed lower left: TCA, Vue d'un torrent à Grindelwald (Suisse) 1832. Stamped lower left: THre ALIGNY
Gift of DeCourcy E. McIntosh.
2003.51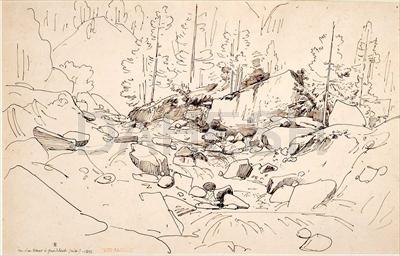 Théodore Caruelle d'Aligny was known for his novel approach to painting landscapes combining a Neoclassic aesthetic with naturalism. In fact, his contemporaries considered him a reformer of the landscape genre. His art was based on close study of nature, beginning with numerous drawings and sketches en plein air or outdoors, before completing them in his studio — the practice of plein-air sketch-making being an important aspect of academic training. Like many of his drawings, Waterfall at Grindelwald is executed in pen and ink, and illustrates his tendency to view nature as an organization of mass and form, rather than a study of atmosphere and light effects.
After studying in Paris with Jean-Baptiste Regnault and Louis-Etienne Watelet, Aligny traveled to Italy at his own expense from 1822 to 1827, where he met and befriended Camille Corot. Upon his return to France, he worked in the Forest of Fontainebleau, an important destination for several generations of landscape artists. He made numerous trips in France, Italy, Switzerland, and Greece. In 1842, Aligny was decorated as Knight of the Legion of Honor, and in 1861, he was appointed Director of the École des Beaux-Arts in Lyon, a position he occupied until his death. Aligny's production varies between landscapes and historical landscapes, as well as mythological, religious, and ancient history paintings.