Théodule-Augustin Ribot (French, 1823–1891)
A Boy's Head in Profile
Charcoal on paper, 4 1/8 x 2 7/8 in.
Gift of Decourcy E. McIntosh
2004.21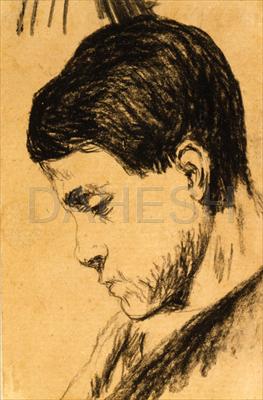 Théodule Ribot was largely self-taught and studied briefly with the history painter Auguste-Barthélemy Glaize. For many years he worked various odd jobs to earn a living, decorating window shades, coloring lithographs or painting copies after paintings by Watteau. In the 1850s Ribot befriended realist painters such as François Bonvin, and he made his Salon debut in 1861 with four kitchen interiors. His Saint Sebastian (Salon of 1865) was acquired by the state, and signifies his signature chiaroscuro style, which was profoundly influenced by Spanish Old Master painters, most notably Giuseppe Ribera.