Victor Orsel (French, 1795–1850)
Studies of Camels, 1828
Pencil on buff paper, 6 1/4 x 9 1/2 in.
2004.19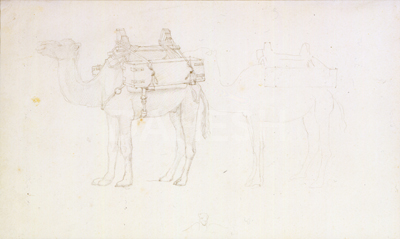 In 1822 Orsel moved to Italy, where he remained for eight years studying the country's Christian art, especially Roman mosaics. While visiting Pisa, Orsel made sketches of a herd of camels, which the Grand Duke of Tuscany had imported to serve as pack animals to transport goods along the region's coast. Orsel's biographer and friend––Alphonse Périn––commented on these drawings after seeing the animals: "In comparing his [Orsel's] drawings with the originals, I was struck by his knowledge of anatomy and his rendering of sketches, done with only a few strokes." During his time in Italy, Orsel made around thirty other drawings of animals, which he later used as inspiration for his religious paintings.