William-Adolphe Bouguereau (French, 1825–1905)
Study for Charity, ca. 1872
Oil on paper, laid on panel, 13 x 9 3/8 in.
Signed lower left: W BOUGUEREAU
1995.103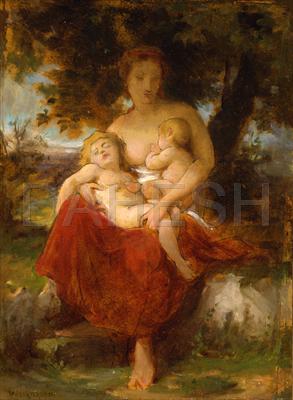 Bouguereau was fond of the Charity theme creating a number of variations on it throughout his career, including an oil painting (1859, University of Michigan Museum of Art), and another commissioned in 1872 by American art deal George Lucas for his client and compatriot, collector and dealer Samuel P. Avery. Here Charity, one of three theological virtues, is personified as a mother nurturing her children— following the most common representations of the subject in Renaissance and Baroque paintings. Initially, Bouguereau intended to show five children in the final painting (1874, location unknown), however disagreement about the sale price led him to paint only two. Bouguereau added three more children to his more classical image of Charity in 1878 (location unknown). The oil sketch here is a preparatory study for the Avery painting, one of two known oil sketches (the other is in the Baltimore Museum of Art), in addition to a series of pencil sketches (private collection), and a chalk drawing (Nelson-Atkins Museum of Art).