Thursday, November 7:  Seeing through Paintings
How does one restore an art work from the damages of time or natural disaster?  How can collectors distinguish a real work of art from a fake?  Artists, collectors, museums, and galleries often call on conservator Rustin Levenson. Find out what she does and how she does it during her illustrated talk, and stay for a book signing.
Rustin Levenson is the President and Founder of Rustin Levenson Art Conservation Associates of New York and Miami: she has B.A. Wellesley College; a Diploma in Paintings Conservation, Fogg Art Museum, and Harvard University. She served on the Conservation staff of the Fogg Museum (1969-1973), the Canadian Conservation Institute (1973-1974); The National Gallery of Canada (1974-1977); and The Metropolitan Museum of Art (1977-1980). She has co-authored with art historian, Andrea Kirsh, Seeing Through Paintings: Physical Examination in Art Historical Studies and written chapters for The Expert vs. the Object .
December 5:  The Other Orient: China in the Nineteenth Century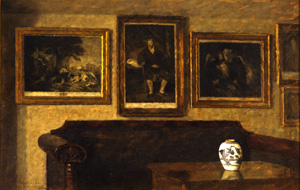 If China had represented the "Orient" in the eighteenth century, the Islamic world usurped that role in the nineteenth. But, throughout the nineteenth century, the interest in China and Chinese art remained vivid, yet the meaning they held for the West changed. This changed meaning, in the larger context of nineteenth-century Orientalism, is the focus an illustrated lecture by the distinguished scholar Dr. Petra Chu, PhD.
Petra Ten-Doesschate Chu, PhD is Professor of Art history and Museum Studies at Seton Hall University where she co-Founded and directed the MA Program in Museum Professions., She has two doctorates one from Columbia University, NY and the other from Utrecht University, Holland. The recipient of numerous fellowship and awards, and was most recently named a Fellow Getty Research Institute. She helped found and served as Managing Editor for Nineteenth-Century Art Worldwide  (www.19thc-artworldwide.org) and was the president and board member of the Association of Historians of Nineteenth-Century Art.  Among her many publications,  Twenty-First-Century Perspectives on Nineteenth-Century Art  (co-edited with Laurinda S.Dixon) is considered a landmark in art history.