All programs begin at 6:30 pm
@ The Dahesh Museum of Art Salon/Gift Shop
145 Sixth Avenue, corner of Dominick Street
New York, New York 10013
212-759-0606
Admission Free.
Seating May Be Limited (Wheel Chair Accessible)
Thursday, June 6:
Multiple Images: Reproducing Academic Art 1850–1900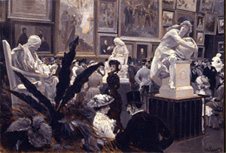 Academic paintings were among the most well-know of all images in the nineteenth century because they were widely reproduced and disseminated. Donato Esposito, PhD recounts the successive methods of reproduction from the 'traditional' engraving, which reproduced the works of Ingres and his contemporaries, to the rise of photography and later photogravure, which challenged traditional printmaking techniques. Etching rose to prominence from the 1860s onwards, as its 'painterly' quality was seen as attractive. Painters such as Alexandre Cabanel, James Tissot and Lawrence Alma-Tadema actively assisted printmaking by making reduced replicas of their works, while cheaper reproductions were popularized in Illustrated London News in London, and L'Illustration and Le Monde Illustré in Paris, and reached a very broad audience.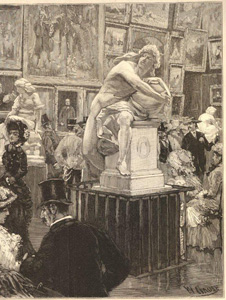 Donato Esposito, PhD, is an Andrew Mellon Fellow at the Metropolitan Museum of Art and obtained his doctorate from the University of Plymouth (UK) in 2011, with a thesis that explored the reception of Assyrian art by British and French artists. He was previously curator in the Department of Prints and Drawings, British Museum in London (1999–2004).
Image:
Charles Baude after Wilhelm Gause,
Vienna (Austria)
International Exhibition of Fine Arts, the French Section (8 medals)'
wood-engraving from 'Le Monde Illustré'
12 August 1882.