Thursday, April 3
Designing a Thoroughly Modern Atelier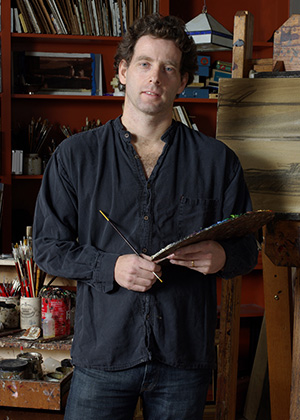 Join Jacob Collins – New York City artist, teacher, and founder of the Grand Central Academy – for a provocative, free-wheeling exploration of what led him to found a modern art school patterned after the 19th – century atelier; the challenges of such an endeavor, and the future of classical training for young artists.
Jacob Collins is the founder and director of the Grand Central Academy in Manhattan and is a respected artist, teacher, and role model in the field of contemporary realism. Combining a technique reminiscent of the nineteenth-century American realists with a freshness of vision scarcely encountered among today's traditional painters, Collins' works form that rarest of unions where classic beauty and striking originality meet as harmonious equals. He received a Bachelor of Arts from Columbia College and attended the New York Academy of Art, École Albert Defois. Collins' work has been widely exhibited in North America and Europe. His work is included in several American museums.
Thursday, May 1
Have Caryatids, Will Travel: Karl Friedrich Schinkel's Architecture in Motion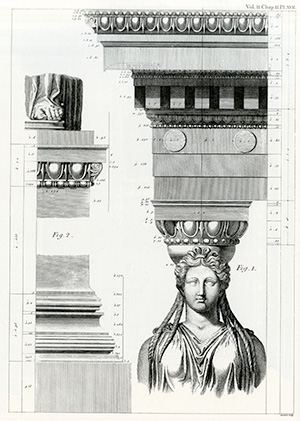 When an unknown ancient craftsman first decided to substitute a sculpted female body for a load-bearing column, a curiously contradictory element entered the architectural vocabulary: a "caryatid" is a fixed, structural member who, by virtue of her human form and gesture, suggests a capacity for movement. Such figures appeared only rarely during antiquity, yet the nineteenth century witnessed a surge in the caryatid's popularity, with female architectural supports popping-up across European cities from London to Berlin. By following a sequence of these 'modern' caryatids – copied, modified, multiplied and re-deployed in the projects of Karl Friedrich Schinkel – Steven Lauritano considers how and why this particular motif contributed to the Prussian architect's conception of historicist design.
Steven Lauritano is a PhD candidate at Yale University in the Department of the History of Art. Currently, he serves as a fellow in the Berlin Program for Advanced German and European Studies at the Freie Universität Berlin, where he is completing his dissertation research on the architect Karl Friedrich Schinkel and the re-conception of spolia in 19th-century design. Before enrolling in the doctoral program at Yale, he earned his A.B. and M.Arch I degrees from Princeton University. His past research projects have received support from the Kress Foundation, the German Academic Exchange Service (DAAD) and the Fulbright Program. His writings have appeared in 306090 Books, Circo, and Pidgin Magazine and he has translated several important texts from German, including essays by Gottfried Semper and Konrad von Meyenburg. In 2009 he received the Winterhouse Award for Design Writing and Criticism.
Thursday, June 5
Nineteenth-Century Exoticism and the "Oriental African"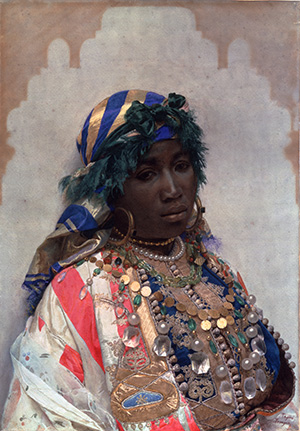 At once compelling and repulsive, the figure of the black "Oriental" represented the ultimate exotic "other," the inverse of the European, and helped to define the complex topography of nineteenth-century Orientalism in a variety of ways. Black figures embodied sexuality, aggression, servitude, barbarism, and ethnographic degeneration, defining themselves and by association, the Orient. Art historian Adrienne L. Childs, PhD addresses the dynamics of race and the exotic in the cultural consciousness of the 19th century.
Adrienne L. Childs is an independent scholar, art historian and curator. She is an associate of the W.E.B Du Bois Institute at the Hutchins Center, Harvard University. Her interests are in the relationship between race and representation in European and American art. She has written on diverse topics such as Henry O. Tanner in North Africa, Black bodies in Meissen Porcelain, and the prints of David C. Driskell and Margo Humphrey. She recently contributed an essay to Volume V of The Image of the Black in Western Art. She is co-editor of Representing Blacks in European Art of the Long Nineteenth Century a forthcoming volume of essays from Ashgate. She is on the curatorial team for and exhibition of the collection of Bill and Camille Cosby with the National Museum of African Art that will open in the fall of 2014. She is also co-curating The Black Figure in the European Imaginary for the Cornell Fine Arts Museum at Rollins College. She has lectured widely on her next book project-an exploration of blacks in European decorative arts entitled Ornamental Blackness: The Black Body in European Decorative Arts.