CHANGE OF VENUE FOR MARCH SALON THURSDAYS EVENT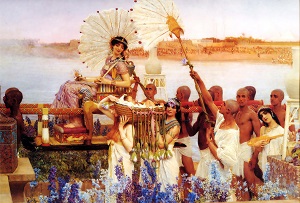 Our celebrated series of Salon Thursdays talks continue on Thursday, March 5 at 6:30 PM with a twist – as we finish repairs following a frozen waterline at the Dahesh Museum of Art Gift Shop. Our next event will take place at the world-famous auction house, Sotheby's, located at 1334 York Avenue in Manhattan. Sotheby's is located between 71st and 72nd Street, and the phone number is 212.606.7140.
This change of venue is ideal, as our guest speaker is Polly Sartori, who will discuss the state of the current and historical art market for 19th century European art and how taste-makers affect critical appraisal and price.
Polly Sartori is Senior Vice President and Head of the 19th century European Paintings Department at Sotheby's New York. She joined Sotheby's in June 2000 after 16 years at rival auction house, Christie's, where she had been Senior Director of Impressionist and 19th Century European Art. Ms. Sartori was a member of the European Paintings Department at the Metropolitan Museum of Art from 1977-1983. She received a B.A. in Art History from Wells College and a Master's degree from New York University's Institute of Fine Arts, where she specialized in Medieval Art. Under her direction, Sotheby's sales of 19th Century European Art achieved almost $700 million, including the top price ever paid for a painting in this category when Sir Lawrence Alma Tadema's "The Finding of Moses" sold for $36 million in 2010. Ms. Sartori's most recent publication is an essay on one of her favorite artists, Jean François Raffaëlli, in "Twenty-First Century Perspectives on Nineteenth-Century Art: Essays in Honor of Gabriel Weissberg."
* * *
DAHESH MUSEUM OF ART ANNOUNCES
TWO ADDITIONAL SALON THURSDAYS EVENTS
Free-to-the-Public Events Drive Discussion of 19th Century Art
New York, September 16, 2014 – The Dahesh Museum of Art has added two additional talks to its popular Salon Thursdays events, with events also now slated for October 2, 2014, and June 18, 2015. Salon Thursdays are completely free to the public, and start at 6:30 PM. They are conducted in the Dahesh Museum of Art Gift Shop located at 145 Sixth Avenue, on the corner of Dominick Street, one block south of Spring Street. The events are wheelchair accessible.
The new line-up for the next series of Salon Thursdays events includes:
• October 2 – Historian and author Annette Blaugrund will present "City Ateliers and Country Retreats: From Thomas Cole to the Artists of The Tenth Street Studio Building to the Cos Cob Art Colony," where she will discuss parallels and contrasts between different artistic solutions to work space.
• November 6 – Seth Gopin will talk about Flemish-French artist Jean Baptiste Vanmour (1671–1737), who traveled East in the entourage of Marquis Charles de Ferriol, the French ambassador to Constantinople (Istanbul), to paint life in the Ottoman Empire.
• December 4 – Peter Trippi, a historian of the 19th-century Academic Tradition, will discuss celebrated artist Charles Bargue (1826/1827–1883), who devised the drawing course used by generations of artists, including Pablo Picasso and Vincent Van Gogh.
• February 5 – Historian Galina Mardilovich employs her recent findings in Russia to discuss the tradition of Russian printmaking.
• March 5 – Sotheby's Polly Sartori will discuss the state of the current and historical art market for 19th-century art and how taste-makers affect critical appraisal and price.
• April 2 – Scholars Pat Mainardi, Petra Chu, and Sally Webster review the state of research into 19th-century Studies in Art History, and why the era is enjoying a critical reassessment.
• May 7 – Roberto Ferrari reveals the story of Jewish artists in Victorian London with a special focus on the lives of artists Abraham, Rebecca, and Simeon Solomon.
• June 18 – Dr. Leanne Zalewski will explore why the Gilded Age was also the Golden Age of collecting European academic art in New York City, and how this this style of art pervaded collections in New York and around the world.
"We are delighted to respond to the public's increasing demand for information on the 19th-century artistic tradition," said J. David Farmer, Director of Exhibitions. "The two new presentations added to our Salon Thursdays roster will help drive the expanding conversation surrounding this era."