(July–Aug. 2017)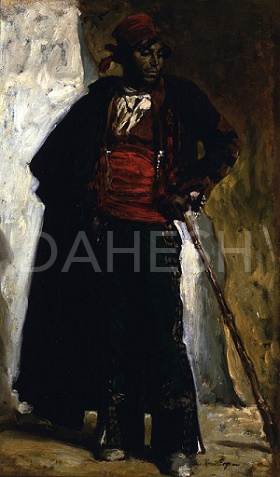 By the mid-19th century, writers, curious travelers, scholars and artists from across Europe flocked to Spain. Interest in the Iberian Peninsula had emerged at the end of the 18th century, when travel writers such as Henry Swinburne rediscovered the area's rich Islamic heritage, preserved at sites like the Alhambra in Granada. Romantic writers were especially influential in popularizing this exotic vision—Victor Hugo's Les Orientales (1829) proclaimed that "Spain is still the Orient; Spain is half African, and Africa is half Asiatic," while Washington Irving created a Moorish pastiche out of Spain in his books The Conquest of Granada (1829) and The Alhambra: A Series of Tales (1832).
David Roberts was one of the earliest artists to take an interest in Spain's Moorish past, and his detailed images of Cordoba's famous mosque were reprinted in a series of lithographs, Picturesque Sketches in Spain (1837). Spain was also a gateway to the Orient for Roberts, and many other artists that later made the same journey, including Henri Regnault. Famous for the Orientalist works he produced during his very short career, Regnault first visited Spain in 1868, using funds from his Prix de Rome prize, in the company of his friend and fellow painter, Georges Clairin. They both returned to Spain in late 1869, traveling to Granada, where Regnault studied Moorish ornament at the Alhambra, on behalf of his father, Victor Regnault—the famed chemist and director of the Sèvres ceramic factory. Spain's Oriental architecture and character captivated Regnault, who wrote to his father that "the country is superb; it is Africa, Egypt." He was especially fascinated by various Spanish "types," particularly the toreadors in their colorful costumes, as well as Roma (gypsies) and low-class workers whom he saw on the street. Regnault's A Spaniard is one of these "types," a man whose swarthy complexion and vibrant costume hint at Moorish influence.
Regnault dreamt of visiting the rest of the Orient, writing "It is the Orient that I call for, that I demand, that I want." Before the end of 1869 he and Clairin had established a home and studio in Tangier, where both artists continued to use the numerous sketches they made of Spain's Islamic architecture as backgrounds to their paintings, as in Regnault's Summary Execution under the Moorish Kings of Granada (1870, Musée D'Orsay, Paris). The outbreak of the Franco-Prussian war prompted Regnault and Clairin to return to Paris to defend their homeland. Regnault was killed at the Battle of Buzenval in January 1871.